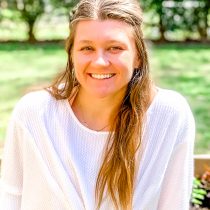 Danielle initially joined The Thompson Team in the summer of 2020 to expand her Marketing career in the field of Real Estate. She has developed a marketing plan for over 50 homes that resulted in a successful sale!
Having grown up around real estate and property management for most of her life, Danielle was always interested in the process of searching for someone's dream home and helping them make their real estate dreams come true! She is now a Licensed Real Estate Agent and part of The Thompson Team, specializing as a Buyer's Agent to help you search for, find, write an offer for and finally move into your dream home!
Danielle graduated from Lynchburg College in 2015 with an Exercise Physiology major and a Business minor. She began getting more involved in social media and digital marketing for the businesses she worked for after college simply as a passion and with an understanding of how important it is these days for a successful business to have an online presence and audience. She continues to direct all of The Thompson Team's marketing for all of our Listings.
---
Contact Details
---
Send a Message