What's the Real Estate market looking like in Hampton Roads, Virginia so far this Spring, you ask?
Here's a quick Market Update for you! If you have any specific questions about selling your home or starting your own home buying journey, contact us anytime so we can get to work for you!
New Listings
The year started out with new listings around 2,800 per month, but so far this spring, that number is close to doubling with 4,145 New Listings in April 2021 across Hampton Roads!
Spring is typically a hot season for Real Estate, so this jump was expected and buyers should be excited! However, with how competitive the buyer market has been, there is still some catch-up before competition dies down a bit.
Under Contract and Sold Homes
Buyers have jumped on every opportunity as the New Listings grew, producing the highest pending sales that we've seen in 3 years! Of the 4,145 New Listings, 3,663 went into Pending and of those, 3,270 Closed in April.
Average Days on Market

While Listings and Sales are reaching their highest points, Days on Market is down almost 62%! With an average of 8 days on the market, the turnaround from For Sale to Under Contract is the fastest we've seen in years!
Average Price received by Sellers
As we can expect with a market offering high demand and low supply, Average Sales Price is up to $287,000 – almost a 20% increase from January 2020.
What's also causing Sales Prices to be higher? When a seller sets their Listing Price, currently, they are receiving 100.8% of that List Price for the Sales Price! Buyers are outbidding one another to land their dream home resulting in higher and higher final Sales Prices.
Active Buyers in the Market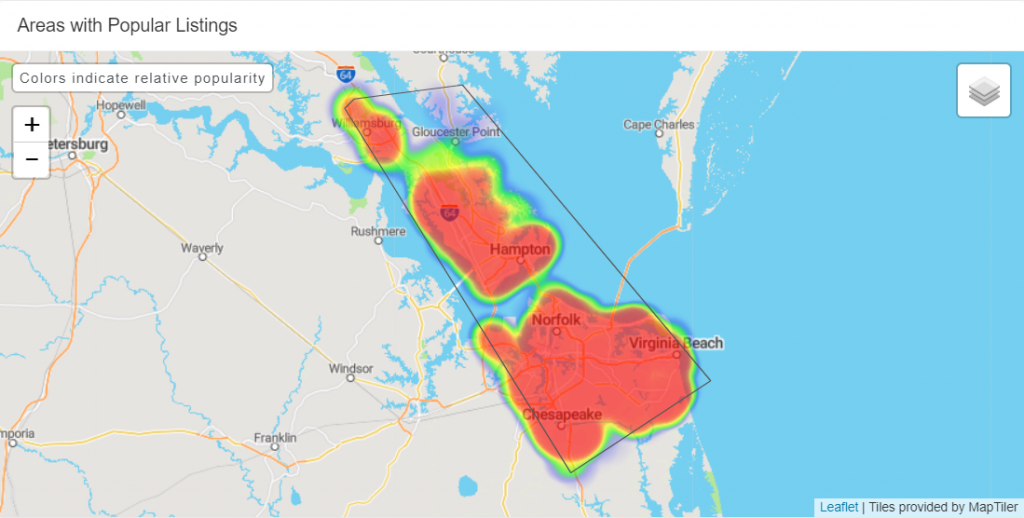 Speaking of these competitive buyers, check out this "heat map" of the popular areas seeing high buyer-activity in the last 60 days. According to RealScout, Hampton Roads had 2,357 Active Buyers in the past 2 months interacting 113,068 times with the listings available. That computes to each buyer making almost 50 interactions!
If you are starting to look for your new home, we will be ready to guide you in this currently crazy market. It's important to have realistic expectations of what you're getting into and understanding that searching through 50 listings is not uncommon in this market right now!
Contact Eric if you'd like more information regarding selling your home or if you're ready to tackle this market as a buyer!
Need some more details in order to feel ready to get started? As a Seller, right now can post plenty of great opportunities with high sales prices and plenty of active buyers. Learn more about our process when working with sellers by clicking below.
Ready to upgrade your space or shorten a commute? Buying a new home is certainly not impossible right now, you just need to have a great team by your side! If you need more details on the process to feel knowledgeable and ready to tackle the market, click below!